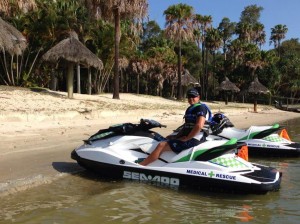 Runaway Bay Marina always likes to support local organisations and just before Christmas the team from Medical Rescue paid the Marina a visit and we were very impressed with the services they offer.
Medical Rescue help people when people can't get to help themselves out on the waterways – whether it be treating a 4 year old with second degree burns on Stradbroke Isl or assisting with a suspected broken arm from a jet- ski fall, these guys do a fantastic job and deserve all the support they can get for providing medical pre-hospital support and transport.
So make sure you drop into their Medical Rescue Facebook page and give this fantastic organisation a 'Like' (and give them a wave if you see them on the water as well)!